This tool holds electronic pieces in place for you, leaving your hands free to perform your work!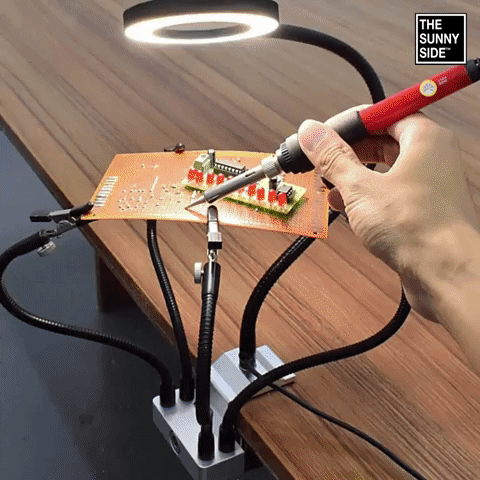 Soldering Helping Hand
is the ultimate third hands helping hand system for working on your projects including electronics, crafts, figurines, hobby works and more! It features a magnifying glass that is useful to go over small pieces plus four flexible arms with clamps that can be rotated 360 degrees. The base is sturdy enough for you not to worry about tipping over.
A must in any electronics lab, making your job easier when it comes to soldering, offering you a more comfortable working time.
Features:
Four adjustable gooseneck arms with industrial strength clamps
Aluminum base is heavy and extremely sturdy to ensure your workstation doesn't tip over or move an inch
Alligator clamps can be rotated 360 degrees
Magnifying glass with LED lights - the color temperature of LED light can be adjusted in 3 steps and the brightness can be adjusted in 11 steps
Perfect for computer boards/ jewelry makers/ arts crafts hobbyists/welding rework
Specification:
Lens Diameter: 60mm
Charge: Under 5V 1.5A
LED: 42 SMD LED Lights
Flexible Arms Material: Spring Steel
Flexible Arms Length: 240mm/400mm
Magnifying Glass Multiple: 3X LED Magnifying Glass
Material: Aluminum Alloy + Metal + K9 Optical Glass
Packing weight: 1.055kg
Package included:
1 x Mini Wrench
1 x Aluminum Alloy Base
4 x Alligator Clips
1 x USB 3X LED Magnifying Glass
4 x 240mm Flexible Arms
1 x 400mm Flexible Arms