The Simplest & Effective Way To Relieve Joint Pain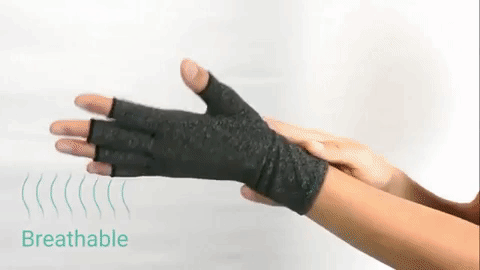 Invented to help relieve pains, aches, and stiffness associated with arthritis of the hands. These Open Fingers Compression Gloves features a unique design that provides mild compression and helps increase circulation, which ultimately reduces pain and soothe joints to help you do your daily tasks.

Made of soft, breathable cotton - comfortable enough to wear all day. The open fingertips allow you complete freedom to feel, touch and grip, so you can perform daily tasks without issue.
Provide Symptomatic Relief For All Sorts of Problem including:
Swelling
Base of thumb pain
Rheumatoid arthritis
Osteoarthritis
Poor grip strength
Benefits:
+ Help provide relief from arthritis pain
+ 
Sooth arthritis pain
+ 
Helps to improve pain and mobility
+ 
Can also be used for other hand pain related issues and carpal tunnel syndrome
+ 
Provides mild compression to help control or decrease swelling of the joints
★

 

ALL-DAY WEAR
Wear our glove day and night and during everyday activities, such as typing, driving, typing, carrying objects and much more.
★ OPEN FINGER DESIGN
Perform everyday tasks like using phone, typing, cooking and more without interference. The ergonomic stitching embraces your hands to ensure a snug and contoured fit.
★ SOOTHE ARTHRITIS PAINS
Say goodbye to tingling discomfort, stabbing pains and muscle soreness. The high-grade materials enhance your blood circulation, facilitate hand dexterity.
HOW DOES IT WORK?
By applying pressure to the areas most affected, such as the knuckles and base of the wrist, the gloves distribute relief evenly to the most sensitive areas. The University of Maryland Medical Center reviewed studies that found a decrease in swelling and verified evidence of pain relief of rheumatoid arthritis patients.
Specifications:
S: 8/3.15
M: 9/3.54
L: 10/3.94
Package includes: 1 x Open Fingers Compression Gloves