THIS BRACELET BRINGS INNER PEACE & CONTAINS BUDDHA'S 6 TRUE WORDS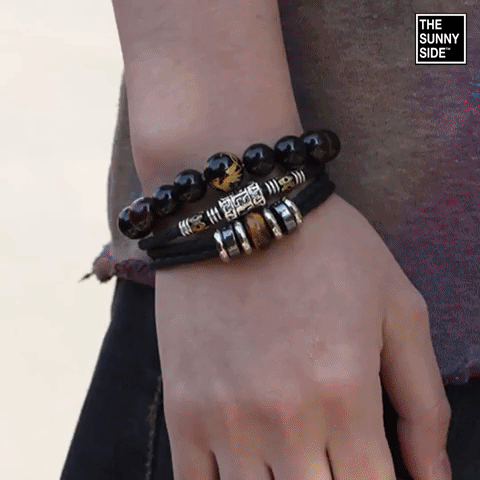 This bracelet can help you to release fear and anxiety and aids harmony and balance. It stimulates you to take action and helps you to make decisions with discernment.
The six true words:
Om Ma Ni Pad Me Hum is the most common mantra in Tibet, recited by Buddhists, painted or carved on rocks, prayer wheels, or yak skulls and seen around Tibet very commonly. According to Tibetan culture, it is said that all the teachings of Buddha are contained in this mantra, and that to know the phrase is to know enlightenment.
The six true words bring you joy and peaceful vibrations and supposedly, contained in this verse is the truth of the nature of suffering and how to remove its causes.
Each of the 6 syllables has certain Sanskrit meanings that are important.
Om (ohm) - Om is the sound or "vibration" of the universe. This sound is the most important of all; but in the context of chanting and mantras, it is meant to destroy attachments to ego and establish generosity.
Ma (mah) - Removes the attachment to jealousy and establishes ethics.
Ni (nee) - Removes the attachment to desire and establishes patience.
Pad (pahd) - Removes the attachment to prejudice and establishes perseverance.
Me (meh) - Removes the attachment to possessiveness and establishes concentration.
Hum (hum) - Removes the attachment to hatred and establishes wisdom.
Details:
Metal Material: Zinc Alloy
Material: Leather
Length: About 20.5cm