Experience the wonder of the Aurora Borealis by wearing this stunning necklace.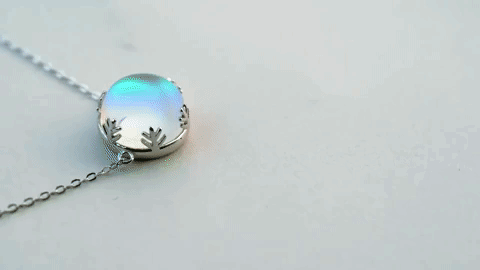 Inspired by the ethereal glow of the Northern lights, this beautiful necklace features a single round crystal detailed in a forest frame of sterling silver. Wear it at night or under the sun to see the mysterious brilliance of the Aurora Borealis.
DETAILS:
The Aurora, appearing in the sky above the earth is a luminous phenomenon. If you visit the forests of the North and see the Northern lights in all their mysterious brilliance, you'll have no regrets.
STONE:
When turned in different angles, the pendant radiates amazing colorful auras, like the Aurora Borealis. The forest inspired stainless silver holds the crystal in place.
Specification:
Material: s925 silver/ Halo crystal
Diameter: about 12mm
Process: handmade
Length: About 40cm, Extension chain 5cm
 Package:
1x Wiping silver cloth
1x Aurora forest design necklace